---
Re-imagining the Household of God 2015
Saturday, May 2, 2015  9:00 a.m. – 4:00 p.m. This new event brings together the best elements of two previous diocesan events — Becoming the Household of God and Ministry Fair.  Our theme is "Re-imagining the Household of God," focusing on what it means to be the Household of God and how we reach out to meet the needs of God's people beyond our doors.  The keynote speaker, Tom Brackett, is missioner for church planting and ministry development for the Episcopal Church.  Those who attended "Requiem or Renaissance" in December heard what an impressive and inspiring a speaker he is.  Tom's bio can be found at:  http://www.collegeforbishops.org/assets/1145/brackett_bio.pdf
---
Three Cathedrals Choral Festival
The Cathedral Choirs will participate in the Three Cathedrals Choir Festival the weekend of May 1st in London Ontario.  Please visit the Festival's website for more information or to purchase tickets.  London is an easy 2 hour drive from Detroit.  Please visit their website for more information and to purchase tickets HERE.
For information about London Tourism, visit their website
HERE
---
Partners for Sacred Places and Culture Source
Invite You to Learn About
Making Homes for the Arts in Sacred Places
DATE: Wednesday, May 6, 2015
TIME: 4:30 p.m. to 6 p.m.
LOCATION: Cathedral Church of St. Paul
4800 Woodward Avenue
Detroit, MI
Are you looking for a new way for communities to connect?Interested in the arts acting as a catalyst for community development?Interested in learning how sacred places and artists
can work together in your community?
Join us to learn how you or your organization can be part of
a national study funded by the Doris Duke Charitable Foundation
about the current state of arts space in Detroit
and the sacred places that are open to space sharing.
 Partners for Sacred Places'
Making Homes for the Arts in Sacred Places program
matches artists and arts organizations that need space with sacred places that have space to share.
Partners for Sacred Places
1700 Sansom Street, 10th Floor
Philadelphia, Pennsylvania 19103
Choral Evensong for Ascension Day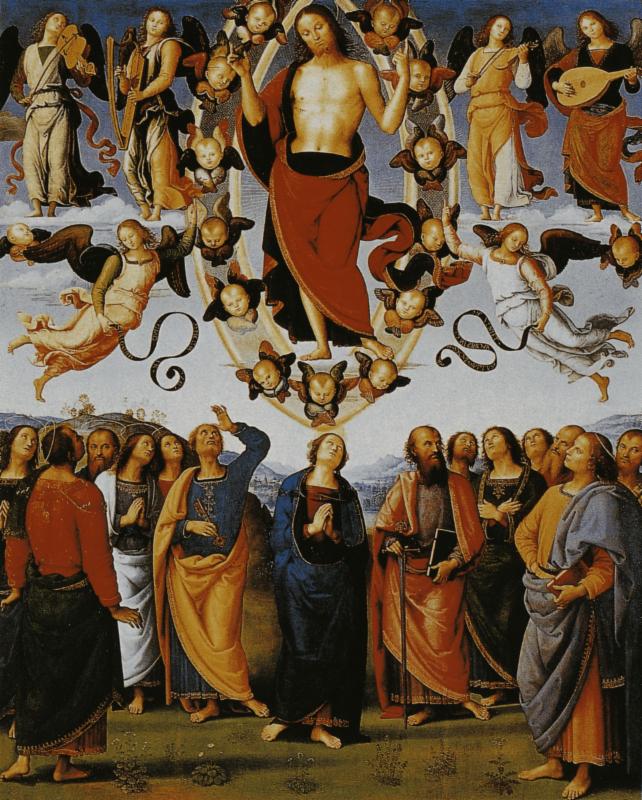 Thursday, May 14, 7:00 p.m.
with the Cathedral Choir
The Rev'd Deacon Brian Shaffer, preacher
Anthem: God is gone up-Gerald Finzi
You are invited to the May 16th Craft-In at the Cathedral!
 9 am – 1 pm
The Cathedral Church of St. Paul, Crowley Room (2nd Floor)
After an introductory time of prayer and contemplation, the workshop will continue with a brief discussion about color and fiber selection in relation to what we've learned about the needs of our Christmas Warmth Project recipients.  There will then be time for knitting and crocheting, during which those who wish to can work on cowls that are particularly designed for men (pattern and guidance provided) or other items appropriate for the project.   Later in the session, there will be a demonstration of the effects of over-dyeing, a useful approach for taking odd colors and bits of left over yarn and turning them into something unified and beautiful.
There will be large amounts of donated yarn available for you to work on and take home, and tea, coffee, water and light snacks will be available throughout the workshop.
Please bring:
Knitting and crocheting needles, hooks and other notions, if you have them.  If not, please let us know and we'll make sure to have extras available. Also, if you would like to bring a dish or treat to share, that would be great!
Please, please RSVP to Kathleen Baltman so that we can be fully prepared to meet your wishes and needs for this event.
Thank you – we hope to see you (and your friends, neighbors, relatives, etc.) there.
---
Spring Concert, with Ice Cream Social and Silent Auction
Saturday, May 30, 7:00 p.m.
The Cathedral Choir presents music of Gerald Finzi and William Walton, including Finzi's festival anthem, Lo, the full, final sacrifice. And pianist Sharon Sweet joins the program along with a string orchestra for Finzi's Eclogue.
An Ice Cream Social and Silent Auction to benefit the Cathedral Choir School of Metropolitan Detroit follows the program.
Suggested donation at the door: $10 adults; $5 students and seniors.
---
Rummage Sale
June 6 and 7
As you start your spring cleaning, please save your gently used and clean items to benefit the ministries of the Cathedral. We are not able to accept Christmas or winter items at this time but will be glad to have those items for the fall sale. Watch this space for volunteer opportunities!
---